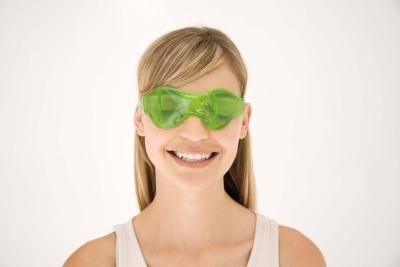 Uneasy to meet a woman over twenty-five who did not find the eye bags on the face in the morning at least once in her life, even if the evening did not contain any «excesses» in the form of libations. And hardly anyone thought about the seriousness of this issue, as the constant unpleasant effects around the eyes can hint at a variety of diseases. Therefore it is very important to know how to get rid puffy eyes.
Between the many reasons there are several possible: lack of sleep or too much strain on the eyes; very high stress, merry evening meal and alcohol abuse, or a lot of drinks before sleep, premenstrual syndrome, improperly selected diet, all kinds of chronic diseases, such as kidney disease.
Compresses with cold tea brewing on the closed eyelids, which must be removed after 3-5 minutes, then cover the area around the eye with nourishing cream. Among the advantages are the ease and convenience of use. The only drawback is the possibility of staining your clothes.
Squeeze the juice of raw potatoes, grated on a fine grater. Apply to closed eyelids for 5-10 minutes with help of cotton pads soaked in this juice. Then apply a nourishing mean. Advantages of this method — its efficiency, swelling removed instantly. A disadvantage is the possibility to use this method only at home, because it is a pain.
Take a small amount of moist cheese, rich in serum, but not sweet or salty — put in cheesecloth and apply to eyelids for some time. Advantages — high efficiency, and the lack of only one — is not always easy to find a suitable cottage cheese.
Prepare the ice cubes from decoctions of oak bark and chamomile or of cucumber juice and apply it for a couple of seconds to the swollen eyelids. The duration of the procedure — not less than 3 minutes. Advantages — this method removes puffiness and rejuvenates the skin finely. Lack — cubes should be prepared in advance.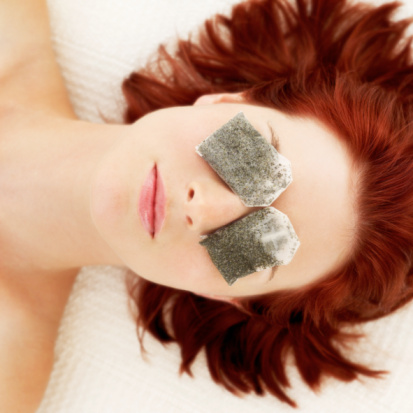 Lotions of mint broth, which is prepared as follows: a mixture of a tablespoon of mint and lemon balm — pour 1 cup of boiling water and leave for 5 minutes, then cool it and then filter. Broth of room temperature soak with cotton pad and apply to eyes for 10 minutes. Then clear the face with water and dry the skin. Pros: this compress not only relieves the swelling, but also tones the skin, smoothing out facial wrinkles. Disadvantages — possible skin sensitivity to mint.
Accept yourself for who you are. It may well be that the swelling around the eyes — the problem which is cosmetic. It may occur with age, either on its own. Try to move the attention of others to those of your qualities that are not subject to time. This may be the color of your eyes or fine hair, and perhaps your openness and positive attitude to life. Of course you can look more tired and aged because of cosmetic problems. And although this is usually temporary, they can be kept for days or even weeks. What can you do? First of all, do not worry! Magnetic storms, trouble at home, at work and in your personal life … All this creates not only the internal discomfort, but also threatens to nervous exhaustion. What to do to prevent it? To prevent the development of neurasthenia, you should reasonable alternate work with recreation and walks in the fresh air. If it is impossible to eliminate the impact of a traumatic situation, it is useful to do some simple thing that will help distract from negative thoughts. Interesting hobby, a variety of activities and games in nature have a positive effect on overall health. They affect your face too. You look fresh and don't have to seek for the remedies of how to get rid of puffy eyes.